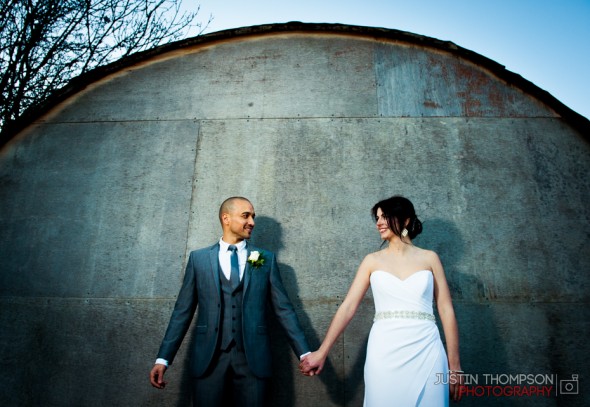 I was fortunate enough to photograph a fantastic wedding in rural Leicestershire at a great little venue called 'The Carriage Hall' for the beautiful bride and groom Anna and Fahrem. From the moment I met them at the wedding consultation I knew they were going to be great fun to photograph, and on the day we had a great time full of smiles, laughter and great wedding photos! The weather on the day was absolutely fantastic, and Fahrem and Anna and all their guests were very keen on getting some inventive shots around the grounds of the hall, which was a great place to work in with elements of both the traditional and the modern.
I would normally start with wedding prep photography for both bride and groom party, but on this occasion I was shooting from just prior to the ceremony all the way through to the evening do – which meant a little more time to view my surroundings and to get acclimatised.  The ceremony and venue were all in one place which meant it was a lot easier to get guests in and out for the formal photographs – and towards the end of the evening we set up a 'photobooth' on a balcony upstairs which meant we could get some fantastic photographs of friends and family in fancy dress; and what started out with the children having fun quickly turned into a competition for the adults!
The evening set-up was beautiful and the first dance looked fantastic with candlelight which really brought out the traditional elements to the venue, as well as making the first dance shots look incredibly romantic. Everyone was really friendly, and we ended up shooting a wedding for two of the guests who we met on the night so we must have made a good impression!
All in all it was a fantastic wedding to photograph; Anna looked absolutely stunning and Fahrem was incredibly dapper; a really fun day and night with a genuinely lovely bride, groom and guests – happy days.
I've put some of the wedding photographs below for you to view.
Enjoy
Justin

This entry was posted on Thursday, September 5th, 2013 at 11:09 pm
You can follow any responses to this entry through the RSS 2.0 feed.
Tags: bride and groom, derbyshire wedding photographer, Justin Thompson, justin thompson photography, leicester, nikkor, nikon, off camera flash, photography, strobist, the carriage hall, wedding photography, weddings
Posted in: Wedding Photography